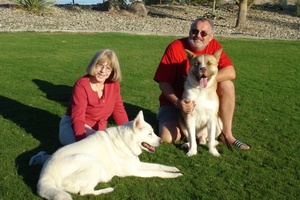 My name is Marty Kirchner. I live in Lake Havasu City, Arizona with my wife Ann and our two Akitas. Sake is a red male and Jilly a white female. Sake is an aloof and friendly boy. He is never going to be a protector and hates riding in the car but is the sweetest dog you could hope to meet. Jilly is a street-wise girl who we rescued from the pound. She is a bit insecure, protective of her food and her Mom, but also very sweet.

Training Sake was a breeze as he is motivated by food. Say the "C word" and Sake went into his Cookie Dance. He learned all the basic commands and responded well. We never could get him to use the doggie door (Akita stubborn) but it didn't matter. Sake has a love-hate relationship with Jilly. Most of the love coming from Sake and the hate… Well let's just say Jilly tolerates the big goofy boy. Sake's health began to deteriorate in November of 2005 and in April, just short of his 14th birthday, Sake did his Cookie Dance one last time and we knew it was time to end Sake's pain. Surprisingly enough, it was Jilly who seemed to be having the hardest time adjusting to life without Sake. We had decided to be a one Akita family after Sake passed, a decision written in sand and we were soon surfing Akita Rescue sites for a companion for Jilly.

We found Bear, a 15-month old red Akita on the TARA site. His colorful bio, written so eloquently by Sandy, told us he was a fellow we wanted to meet. We made an inquiry to TARA and Diane sent us an application. Diane was a bit apprehensive to send Bear out of state and wanted to be sure our desire to adopt was sincere. Initially we were a bit put out by the extensive questions, but after meeting Diane, Sandy and Jarrett and seeing their commitment to Akita Rescue we completely understood.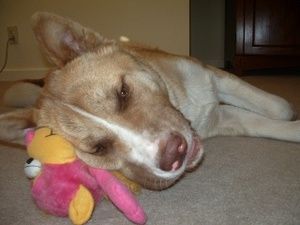 Choosing rescue as a venue for pet adoption requires patience and understanding. People who take on the job of animal rescue are dedicated and noble folks who always have the best interests of the animal at heart. They are unsung heroes who put the animal first and foremost.

We spoke to Sandy, Bear's foster mom, on the phone for over two hours. By the end of the conversation we were in love with Bear & Sandy and wanted to adopt them both! The next step was a home visit by a woman pinch hitting from a local Great Dane rescue that went well. The last and most important hurdle was introducing Jilly to Bear.

Ann, Jilly & I traveled to San Francisco to spend a few days with Bear. It was apparent after two days that Jilly was going to tolerate Bear and he was going to respond well to her corrections. Thrilled with the outcome, a date was set to complete the adoption.

Two weeks later I returned to San Francisco. Diane and Sandy brought Bear to my hotel, along with a trunk full of toys, food, supplements and Bear's bed. We spent the evening together, signed the adoption contract and Sandy provided me with Bear's microchip and medical records. Diane and Sandy were a wealth of information about Akitas and recommended a book to purchase. Bear and I walked Diane and Sandy to their car at the end of the evening and as we returned to the hotel, Bear never looked back. It was an assurance to us all that we made the right choice.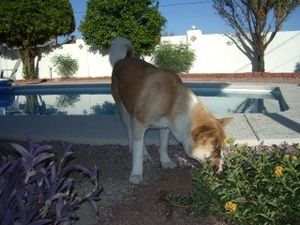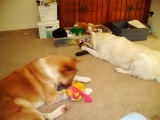 It has been a month since Bear joined our family. There is a love-hate relationship between Bear and Jilly that mirrors that of Sake and Jilly. Life for bear is all about play but he knows when to mind his manners. We spend early mornings at the dog park where he loves to run and soak in the pool. His best friend is Rufus, a 2-year old Basset hound. Bear accompanies me to the office most days where he also has many friends. He entertains them with his vocalizations and by chasing his tail for attention. Ann, Jilly, Bear and I walk in the evenings enjoying the Arizona sunsets. Bear searches for an opportunity to chase a rabbit or some form of desert wildlife. I doubt that Bear will ever be a great protector. He is a sweet, gentle giant who loves to travel in the car. He is not motivated by food but loves praise and attention. He knows his commands and is the second sweetest dog you could ever hope to meet. We love Bear and thank Diane, Sandy and Jarrett for giving us this opportunity.

With utmost respect,
Ann, Marty & Jilly Kirchner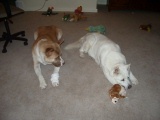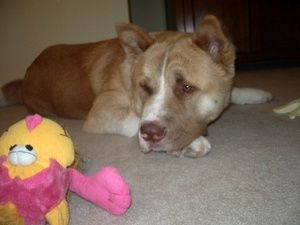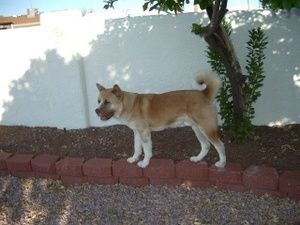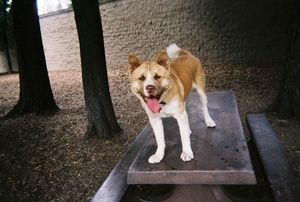 ---
The Journey Continues
By Marty Kirchner - 7/19/09

It has been some time since Bear joined us. He is a welcomed addition to our family and a constant source of entertainment. To say Bear is the "Ambassador of the Breed" would be a stretch. He is more like the "Anti Akita" still whining for attention and missing the aloof Akita gene. A sweet boy who loves travel and adventure none-the-less. Last year Bear and I conducted a home visit in Southern California and met Chris who adopted Rita, aka Tora. It was a great time for us both and an honor to help find Tora her "Forever Home." Bear saw the ocean for the first time. He loved running on the sand and enjoyed the salt air but was not enamored by the oceans undertow.

A lot of change has transpired in the Kirchner family since Bear joined us. The company that I work for transferred me from Lake Havasu City to Phoenix in January of 2008 and than again to Casa Grande in August of the same year. Bear has been a trooper through it all, embracing the change and relying on Jilly to guide him through. Bear still accompanies me to work and we spend early mornings at the neighborhood dog park. Bear is the center of attention as he establishes relationships with new friends.

The years have been catching up to Jilly. Arthritis has prevented those long walks and her hearing has completely failed. Jilly has always been her Mom's girl. As Ann tells it, "I found her at the Palm Springs Pound. She was this beautiful white girl with the sweetest face framing a pink nose. The attendant brought her out of the run; she walked up to me, peed on my foot and has never left my side."

Jilly has taught Bear a lot about the pecking order of the family. He has responded well to her direction, exercising caution not to cross the invisible line that results in dealing with Jilly's wrath. Their relationship has transitioned from one of discipline and respect to that of love. Bear became the gentleman that Jilly requires and she the mother that Bear so needed. Bear has a problem trusting Jilly as he wakes to find her standing over him gently licking his ears or removing the sleep from his eyes. It's a funny scenario, Bear jumping to his feet expecting a stern correction for some unknown violation as she exposes her sweet side. Jilly tries to play with the "big goof" but she is unsteady on her feet and the play is short lived. Bear knows that Jilly's health is failing and he spends his nights sleeping close to her in the yard where she finds the thick grass a comfortable mattress for her tired bones.

By now you probably know where this story is going. Jilly has always been a stubborn cantankerous gal. She always felt her number one job was to please us. Sake gave us a clear sign when he no longer did his "Cookie Dance" but it is equally clear that Jilly is not going to give us a sign. She is a fighter and will deal with the pain asking for nothing but love in return. The decision became ours alone and on July 1st Jilly crossed that Rainbow Bridge where she is free of pain and running free with her old pal Sake. Ann & I mourn our loss. Jilly was a great find who blessed us with many fond memories. She was our nervous girl, constantly licking us to show her love. She has been Ann's protector, exercising that role on more than one occasion, calming only on Ann's command of "Jilly, Be Sweet."

Bear misses Jilly. We are keeping him close to us and pay extra attention to him, providing as many distractions as possible. He is enjoying the extra car trips and the adventures to Petsmart for treats and toys but he knows all is not right in his world. We have been in contact with Sandy & Diane and will soon journey once again to the Bay Area to find a new addition to the Kirchner family.

We will keep you posted.
Ann, Marty & Bear Kirchner
---
Bear's Big Adventure / Carly's Forever Home


It has been a few months since Jilly's passing. Bear has made it abundantly clear that even though he enjoys being the center of attention, it is time to fill the void that Jilly has left for him and Ann.

Ann and I make plans for a trip to San Francisco. We are anxious to bring Bear back to his old stomping grounds and see who he remembers. Sandy calls Helen, one of Bear's biggest fans from his days in Golden Gate Park and asks her to join us for dinner. We meet at Park Chow, a dog-friendly bistro just outside the park. Helen is just one of the treasures we encountered in the City by the Bay. The smile on her face and the tears glistening in her eyes tell the whole story as she is reunited with Bear. It does not take long for Bear to remember his old friend. She is so excited and grins from ear-to-ear as she leads Bear through the park acting as dog handler and tour guide. The next night we meet at the Presidio where Bear visits with his former roommate Abby and we meet Steve, Sandy's husband. Sandy and Steve, along with their friends and neighbors, fostered Bear before he came to live with us. After dinner Helen again assumes her role of tour guide as she leads Bear on our evening walk through the historic grounds of the Presidio with all of us in tow.

This is not just a visit but a journey with purpose. The next day we continue our trip to Elk Grove near Sacramento. At Betty Wilkinson's Kritter Kamp we will meet Charli, a four year old pinto Akita with an angelic black face. Charli is from a broken home in Idaho. Tikihut rescued her several months earlier and are boarding her at Kritter Kamp where she has been evaluated, attended Boot Camp to brush up on her manners and is now ready to be adopted.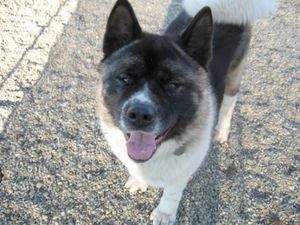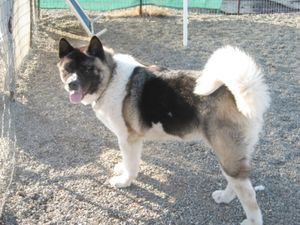 Ann meets Charli first. She is impressed with Charli's sweet face and sturdy white freckled legs. Charli approaches Ann shaking her favorite toy. She drops it and licks Ann's face. Ann grins and says "OK put her in the van."

The next step was to introduce Charli to Bear. If the meeting goes well Charli is on the way to her "Forever Home." Bear and Charli meet at a local park and we see a new side of Bear. He is suddenly Mr. Cool. As they approach each other Bear practically ignores Charli. We continue with the meeting ritual that ends with them side-by-side and Charli lying on her side exposing her belly to Bear. These are all good signs. Charli has a good chance of joining our family with Bear moving up in the ranks. We agree to meet again the next day along with Diane and make a final decision. Charli heads back to Kritter Kamp (with Gail another wonderful Tikihut volunteer) and Bear's "Reunion Tour" continues. Next stop, the Sacramento animal shelter.

Networking and establishing relationships with folks in different shelters and city animal control agencies are vital to Tikihut's success. Diane, Sandy and Jarrett enjoy such a relationship with Kathy Moreland, a rescue coordinator with the Sacramento shelter. Her persistence is responsible for Bear going to Tikihut rather than being euthanized. She refused to take no for an answer when Sandy said there was no room or funds for Bear in the Tikihut. She insisted that Bear was a special Akita that needed to be saved. We are so glad this angel came into Bear's life. Kathy looked past Bear's matted hair, lack of weight and social graces and saw the beautiful boy inside just waiting for a family. It was time for us to show Kathy how right she was and thank her personally.

Maybe it was the pouch of dried chicken on Kathy's belt that Bear remembered or the tone of her voice as she scratched his back; whatever the case Bear trotted up to her with his signature goofy grin and did not leave her side until the visit ended. Kathy is another of the unsung heroes we have met along the rescue trail. We can't thank her enough for her persistence and dedication. Without it Bear would not have become a member of our family.

The next day Diane joins us. Diane knows more about placing a rescued Akita than anyone we know. We have great respect for her opinion and knowledge of the breed. Diane sees things that the average person would never think about and will ultimately make the decision as to whether Charli is going home with us or back to Kritter Kamp. She is not only concerned that Charli and Bear get along but is equally concerned that Ann's needs are met. Jilly was Ann's soul mate. They connected from day one and Diane has to be sure that Charli is the best fit for Ann. We meet at the park and Diane watches the interaction between Bear and Charli. She is skeptical and unimpressed. Her concern is the total lack of interest between them.

I attribute it to Bear's whirlwind tour. We have traveled hundreds of miles, slept in a different hotel every night and Bear is tired. It is a beautiful Sunday afternoon in the park, providing plenty of distractions for Charli. We agree to take Charli to Hayward and let her spend the night with us. Barring any incidents, we will join Diane for lunch the next day and sign the adoption papers. (Did I mention that we all gained a few pounds on this trip?) There were a few territorial disputes that night but Ann and I felt with a few adjustments things could work out.

Charli joined our family in July and is still with us. Halloween is now just around the corner. A Carly Simon song playing on the trip back to Arizona gave her a new name. Charli just didn't seem to fit her cute feminine face so with Sandy and Diane's blessing Charli is now known as Carly.

The weather in Southern Arizona is cooling and the energy level of our Akitas is on the rise. They chase each other around the back yard and Carly has no problem sharing her toys, food or water with Bear. He doles out his attention and affection to Carly, much like Jilly did to him. He is first in line for meals, our attention and affection and Carly is fine with that. She has accepted her place in the pack and adapted to the rules of the home. She trusts Bear, follows his lead and has no problem with him rubbing his neck on her like a favorite toy marking her with his scent. They sleep close at night and Ann says on the days Bear is at the office with me Carly waits at the door for her big brother to return.

Carly is her "Mom's Girl." She sits at Ann's feet and can turn her head at an angle unlike anything we have ever seen when she wants her undivided attention. Carly is unlike Jilly in so many wonderful ways and has greatly expanded our Akita experience. She is calm, confident, petite and gentle in nature. Carly has learned that her stubborn side is not the best way to get things accomplished and walks are longer when there is no pulling. I believe she would protect Ann if the need presented itself. We are looking forward to many more years as a family and stories of Bear and Carly.

Marty K
---