Mihari's Tale 

---
The Innocence of Children
On a cold November morning in 2006, TARA was notified about a pregnant Akita that had for months, been living near an elementary school, begging for food. One of the children's mothers was picking up her son at the school and again spotted the dog. Realizing this dog was pregnant, she immediately became concerned this dog would end up giving birth to a litter of pups in the coming winter conditions. 
She went on to describe a ritual that occurred twice a day, involving the dog and the children. Every morning when parents came to drop their kids off at the school, the dog would come out of hiding, realizing that where there were kids, there might be food. Although frightened and suspicious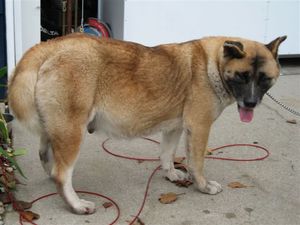 of people, this girl's instinct to survive drove her to face her fears and plead for food. When her begging resulted in a morsel here and there, she soon learned to associate the kids with an opportunity at a small bite to satisfy her hunger pangs. 
It wasn't long before she learned there would be yet another chance for her to get a tasty snack or a few crumbs, when the kids came out for lunch. She'd slowly approach, hoping someone would provide a bite of something…anything. This soon became her daily routine. And though she became braver about approaching, she maintained her well honed survival instincts and kept her distance from other humans. 
When we learned what these kids had been doing for the last several months, we decided that rather than contact Animal Control, we would do everything in our power to rescue this girl off the cruel streets and harsh weather conditions she had endured for who knows how long. It was the children, that reminded us to stay focused on why we are passionate about our rescue efforts. In their innocence, these kids never feared this dog, and their only concern was to make sure she received something to eat, every day. This Akita sensed their genuine affection for her and must have realized they would never harm her. It was a magical connection between a child (children) and a dog, that as adults we can never replicate. 
The Dog Lady vs The Dog
TARA enlisted friend and dog trainer, Eleanor Rose Scheidemann, (
aka The Dog Lady
) who happens to live a short distance from the school. Eleanor is a trainer who specializes in complex cases and works closely with TARA when the need arises. Eleanor was under great pressure to not only capture a basically feral and unsocialized dog, but to do so under the watchful eyes of this dog's young guardians. This was their beloved mascot, and it would not be easy.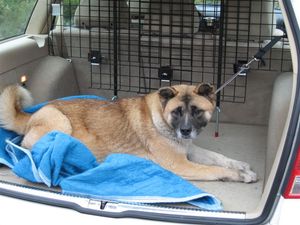 After one failed attempt to gain the dogs' trust, Eleanor returned the following morning when the parents came to drop their children off, hoping she could blend in with the crowd, and coax the dog to come to her with a few tasty treats. It was no small task, but with determination, patience and cunning, Eleanor and her team of trainers were finally able to get close. Quickly assessing the dog's demeanor, Eleanor realized this would be her only chance. She moved slowly and deliberately, calmly slipping the leash over the dog's head. 
The very moment this girl sensed the leash falling down around her neck, she immediately dropped to the ground, and thrashed wildly about, rolling over and over like an alligator in a death roll, trying frantically to shake loose her leather lead. Eleanor held on for life. She knew if the dog were to break loose, all bets would be off and she'd never be able to get close again. While trying to maintain control of the leash, Eleanor could only watch helplessly at the physiological torment this dog was enduring, and her thoughts immediately turned to the physical safety of this dog and her unborn pups. Eventually, our Akita began to tire and they were able to get a makeshift blanket sling under her and hoist her up in the car very carefully. Her eyes were like saucers, petrified out of her mind. Her world as she knew it, had just come crashing down around her. 
The hard part was over, but Eleanor's job was not done. After witnessing such a traumatic capture, she then had to reassure the Principal, the kids and some of the parents that "their" dog would be safe and that updates would be provided to them.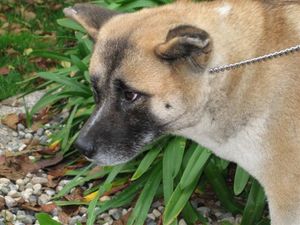 It was not an ideal situation for us or the dog, however our main goal had been achieved and she would soon be warm, sheltered and fed regular meals. We had no idea as to the health of the pups or if they were even still alive. We had to make some quick decisions and move on to the next task at hand. And that was to get her safely home.  Her extreme fear of people and cars meant getting her there was not going to be without added trauma. We could not afford to cause any further stress on her or her pups. Once home, we called upon friends that were Akita breeders, for their expert advice and asked them to come examine her.  Meanwhile, our funds were dwindling rapidly and the hard reality of not having sufficient funds weighed heavily on all of our minds....though no one said a word as we all knew that whatever was necessary…we would do, we would somehow find a way.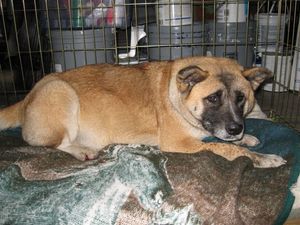 Unsure of her new surroundings, her survival instincts kicked into high gear. Mihari, as we would call her, kept her distance and she refused to venture out of her kennel for several days. She was terrified but somehow managed to keep it together. Through it all, she never once lashed out or showed aggression, in spite of her overwhelming sense of uncertainty. As you can imagine, her first week proved to be highly emotional for everyone.
Much To Be Thankful For
Thanksgiving weekend had arrived, and it was obvious Mihari was about to give birth any day. While the rest of us were enjoying Thanksgiving with family and friends, there would be no turkey and stuffing smothered in gravy, no cranberry sauce or homemade pumpkin pie for Eleanor. Holiday plans had been rearranged, and everyone involved took a crash course in Canine Pregnancy 101. 
After one instance of false labor, a few days after her capture, Mihari delivered
seven beautiful pups alone in the wee morning hours on Saturday, November 25th. Unfortunately, one of the pups faded shortly after birth.  We sadly accepted the loss and hoped it would be the only one.  Everyone was giddy with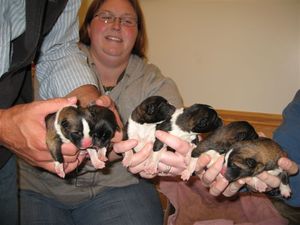 joy at the birth of the pups, however it was apparent that something was seriously wrong with Mihari and our happiness was quickly overshadowed by worry. Rushed to the vet, Mihari was assessed and we were informed the prognosis was not good. Due to a raging internal infection, and poor health, the odds were stacked against her.  Her situation was dire.
They gave us two options: 1) perform emergency surgery or she may not survive, 2) perform emergency surgery but she may not make it through, due to her condition. Option 3, was only an option for a fleeting moment, and that was to have her kindly euthanized. The surgery would cost us $2,000, which we did not have. We frantically phoned our breeder friends, and the varying opinions about what to do were dizzying. In the end, we knew the decision was ours and ours alone. We opted for the surgery, and hoped she was strong enough to pull through. We hoped her toughness and ability to survive all this time on the mean streets was an indication she would fight to live. And fight she did. 
Mihari proved us right, and she pulled through. Her thoughts were not of her own pain or fear, but only of the welfare of her pups. She was sent home to be with them.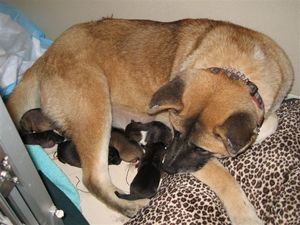 Day by day, things were touch and go, and the emotional rollercoaster was draining as we began losing puppies, born weak from Mihari's poor condition from being on the street. Her young age and inexperience contributed to her unknowingly smothering two of the pups. We were heartbroken and feared we would lose the entire litter. There were many sleepless nights while continuous supplemental feedings and round the clock care were provided by Mihari's personal staff. She slowly began allowing her caregivers to handle the pups and feed them. She began to trust ever so slowly, but it wasn't a trust she gave freely to everyone. This made gaining access to the pups very difficult, but eventually we won out. 
Of the seven pups, two boys and one girl survived. Obviously, they inherited their strong will to live from their mother, and it looks as though the rough times are behind us. We are ecstatic to report they are fat and happy!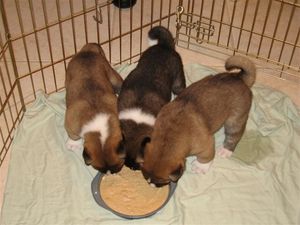 In"DEBT"ed
We will be forever indebted to Eleanor and her team, for all they've done.  We are also IN DEBT!  Mihari's care and bills have depleted the entire TARA bank account. Her vet bills alone have amounted to over $3,000 in the few weeks since her capture, and she will still require a few follow up exams. TARA members, including Eleanor, have stepped up to front the money for her food and care, paying for bills on personal credit cards.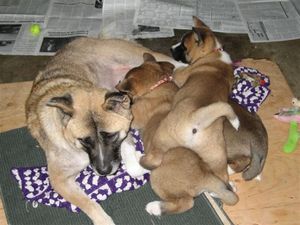 Despite the heartache we all experienced, we would do it all over again in a heartbeat. Now eight weeks old, the puppy antics and clowning bring smiles to our faces. Saving the life of this resilient Akita and her babies, made every minute worth our efforts. Eleanor and her team have committed their time to working with Mihari, and in the last few weeks we've seen her blossom! During her first week with us, she was treading on foreign ground. Everything was unknown to her. To see her now secure in her environment, attempting to entice you to play and asking for attention, is like seeing a baby open its eyes for the very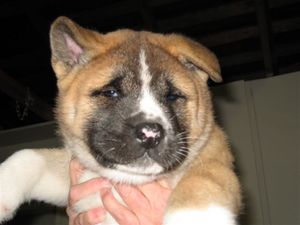 first time. In many ways, Mihari is opening HER eyes for the first time, learning to trust, play and enjoy the company of humans, not just for the trade off of getting a meal. 
Due to Mihari's extensive care and costs,
we are desperately asking for your help in rebuilding our funds. Without these resources, we are unable to finance saving the lives of other Akitas that are just as special. We are not too proud to ask for your help. Please donate whatever you can, so that we may not only continue to provide Mihari and her pups the care they need, but so we can help other at risk Akitas. No amount is too small, and every little bit helps and is greatly appreciated. Your contributions are tax deductible, as we are now recognized in the state of California as an official 501(c)(3), not for profit organization.
If you would like to make a contribution to Mihari and her pups, you can send contributions either via Paypal by clicking on the "Make a Donation" button below, or by sending a check to:
 
TARA
P.O. Box 355
Hayward, CA  94543-0355

Your support is greatly appreciated! 
---

• August 2007 UPDATE: Mihari's pups (Seiko, Isa and Ginko) were adopted!

• June 2008 UPDATE: Mihari was adopted and now is happy in her new home!

You can visit Our Album to see their adoption pictures and updates for other TikiKids that found their new homes!

---

A HUGE thank you to our contributors and sponsors.  Without you, we could not save these lives.  

Cansu Arabaci
Alex & Lisa Ruzycki
Lauren Uyeda
Kristy Verhines & Jake
Dennis and Laura Olson
Terry Atkins
Sarah Griffin
Matt Thorne
Michael & Cia Chinen
Suzanne Novotny & Kiki
Anonymous
Ann & Marty Kirchner, Jilly and Bear
Beverly Andalora